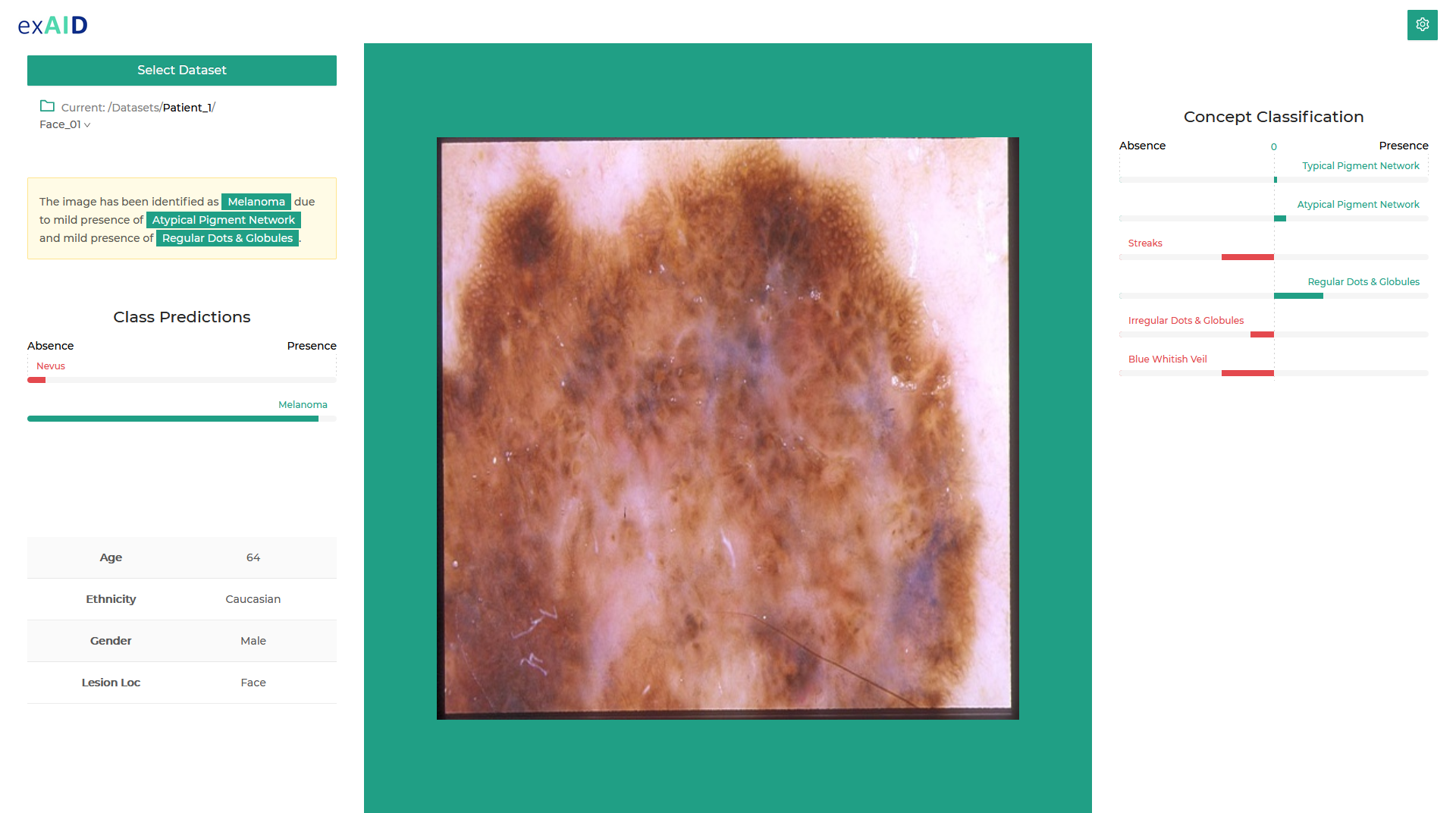 A Showcase for xAI
in Clinical Practice & Education
exAID enables medical professionals to understand and use AI's diagnosis as an aid in clinical practice. Additionally, the extensive model & data analysis helps future dermatologists & medical researchers to better understand patterns in data & developers to identify biases in the model.
Conceptual & Textual Diagnosis Justification
Visual Concept Localization
Data Analysis
Model Analysis
Features
exAID offers a Diagnostic Mode for clinical practice and an Educational Mode for educational & development purposes.
Our Team
exAID is being developed by a team of researchers at German Research Center for Artificial Intelligence GmbH (DFKI). The use case of dermatoscopic lesion classification is developed with kind support from Department of Dermatology of Universitätsklinikum Münster and Department of Dermatology of Universitätsklinikum Düsseldorf.
Related Publications
Lucieri, A., Bajwa, M. N., Braun, S. A., Malik, M. I., Dengel, A., & Ahmed, S. (2020). On interpretability of deep learning based skin lesion classifiers using concept activation vectors. Proceedings of the 2020 International Joint Conference on Neural Networks (IJCNN 2020). IEEE, New York.
Lucieri, A., Bajwa, M. N., Dengel, A., & Ahmed, S. (2020). Explaining AI-based Decision Support Systems using Concept Localization Maps. Neural Information Processing (ICONIP 2020). Springer, Cham.
Contact Us
Feel free to contact us if you have any problems or questions concerning our framework or service.
Address
Trippstadter Straße 122,
67663 Kaiserslautern,
Germany